Tags
author Charmaine Gordon, friendships, Haven, Labradoodles, law, love, paraplegic, prejudice, Romance/Suspense, Survive & Thrive, The Catch, Vanilla Heart
Today it's an honor to welcome back Charmaine Gordon, who has really gone above and beyond with her interview. She's settled in and embraced us in a warm conversation about her book THE CATCH, so I hope you'll join us for a while. Welcome, Charmaine!
Hi Sarah, I'm pleased to visit with you today and to have the opportunity to talk about The Catch, my latest and sixth release with Vanilla Heart. Yippee!
Right off the bat-page one introduces the hero Tom Donnelly aka The Catch who has fallen down every rung of the ladder he climbed and now has to climb back up. Do we know people who like Tom in real life? There's a good chance we all do to some degree.
Next comes the heroine, Joanne McKenna Friedman, beautiful on the outside, damaged on the inside when as a sixteen year old  runaway alone in Chicago she met  a man and trusted him. . .
Everyone has secrets, some small and some ugly. We never know until they're revealed. Personally I can relate to this. Can you?
The Catch is a multilayered story of love, family, friends, evil, corruption of the law, and prejudice. I never leave out humor because laughter can help you through the worst of times.
First line of The Catch:
The woman in his bed sat up and shoved him hard, "Time's up, handsome."
Favorite line—Tom and Joanne kiss the first time. She holds him tight and finally he pulls away.
"Are you trying me on for size? If so, I hope I fit."
A nor'easter is about to hit the Chicago area. Tom, a good guy living in Old Town just north of mid-town Chicago, stops at Joanne's apartment. She lives in his neighborhood. They are not friends yet. She suspects he's still in love with her boss, Charlie Costigan Kahn.
Excerpt:
She shouted, "You're just worming your way back into her life, Thomas Donnelly. I've known men just like you."
At the door he spun around to face her. "You know nothing about me. Charlie and I were kids, seventeen when we loved each other for maybe a week. She was the first girl who said no to me. Me, the big man on campus. My life fell in the toilet and now I'm doing my damndest to be a friend. That's all, case closed. Call me when you get over yourself. You need batteries, candles, water, food." He slammed the door. "And get a better lock." He turned back. "And where's your doorman?"
"Attrition. They let him go. Damn."
Since you've asked, I must answer. The most difficult scene to write in The Catch is when Shelley Costigan goes into premature labor at Haven up on a trail with her friend and patient, Jerry Kahn who is a paraplegic, the result of an accident. With no access to cell phone  communication and Jerry in a wheelchair, Shelley's in trouble. By chance, Tom and Joanne decided to travel north where the beach at Lake Michigan near Haven makes a great outing. They stop at Haven, hear a commotion way up on the path in the woods and run. Joanne takes charge and delivers Shelley's twins while Tom races to call 911.
So why was the scene so difficult? It had to be accurate, make sense, and the fact that I had personal knowledge of many deliveries, some easy, some so difficult, unwanted memories flooded back.
Oh yes, the scene I'd like to experience over and over again but not in real life. On stage or in a movie, definitely. There's a serious bad guy in The Catch; the man who damaged Joanne after making promises never to be kept. She's a lawyer and he's threatened to ruin her career if she doesn't clear his name. Always carrying her Lady Smith, she walks to her apartment and hears his voice after eight years. I won't reveal more but she has courage to defend herself from imminent danger. I do love a strong heroine, don't you? I'm from a different generation where women didn't speak up quickly and expected men to take care of them. Fortunately my daughter is strong and speaks her mind. I've learned from her.
Names come to me. The Catch flashed before my eyes when I thought about Tom Donnelly and later Joanne McKenna Friedman became The Catch. They are both special with strong abilities and character.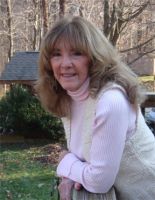 I've just finished a short story titled Instant Grand Dad about two seniors who meet by chance at the Jersey Shore. Romance blossoms in spite of conflicts. This is a new demographic for me. Already I'm halfway through another delicious tale of seniors. After all, we're old but not dead.
Again, thanks Sarah. It's been a pleasure being your guest today. I look forward to meeting your fans.
Find THE CATCH @ Smashwords | Amazon Kindle | Amazon Paperback | B&N ebook and print
Find CHARMAINE GORDON @ Blog | Twitter | Facebook
5-Star Amazon review of THE CATCH from reader Terry L. Blankenship (click here for full review)
The Catch This is a wonderfully told love story for anyone mid-teen and above. The characters are well written and the plot well planned. Story events were easy to follow. The author did a good job of keeping my interest and pulled me into the story, making me want to care what happened to the characters. Ms Gordon made me laugh at different points in the story, which surprised me as I didn't expect to find laughable places in a love story but she pulls them off well. This is not the first book I've read by this author and she has done it again. Congratulations on a well written story, Charmaine!